Philips 3200 With LatteGo Superautomatic Espresso Machine Review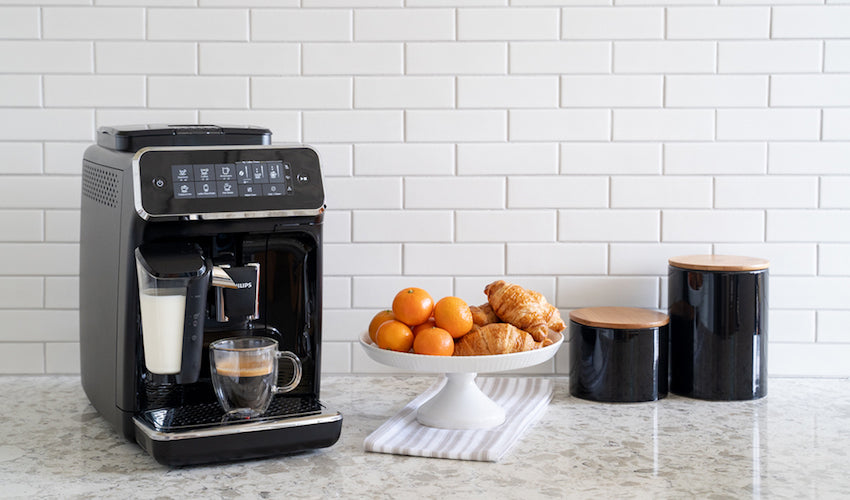 Last year Philips introduced a new line of superautomatic espresso machines. From the 1220 Carina to the 3200 with LatteGo, this line is a wonderful way to get brewing espresso at home. We love this line so much that we brought the Carina in as an exclusive machine here at Seattle Coffee Gear! Let's take a look at how the LatteGo steaming system and the 3200 platform stacks up!
The Basics
The Philips 3200 with LatteGo is a superautomatic espresso machine. This means it's a machine that combines an espresso brew unit, a milk steaming system, and a grinder in one machine. What's more, it means that the machine uses extensive automation to make drink prep extremely simple. With just a few button presses you can get a shot of espresso or a latte.
In the case of some superautomatics, you have to hold a milk pitcher up to a steam wand in order to make lattes and cappuccinos. While not as challenging as a full commercial style steam tip, these panarello wands don't provide the same level of simplicity as an automated system. Some machines opt for a siphon system that pulls milk into a steaming chamber and then dispenses it into a drink. Finally, carafe based solutions have you fill a carafe of milk that the machine siphons cold milk from to steam for milk drinks.
We'll get into the specifics of why the 3200 with LatteGo is a little different from traditional superautos with its milk steaming in a little bit. The first question most users have though, is how's the espresso? We're happy to share that the 3200 matches the rest of the Philips superautomatic line in terms of espresso quality. The difficulty in evaluating espresso from superautomatics is that much of it is subjective. With that in mind, here at Seattle Coffee Gear we feel that Philips' brew process offers a good platform for enjoying a wide range of beans.
The 3200's interface is easy to use, with simple controls to produce espresso, a long shot (labeled as "coffee"), americanos, cappuccinos, lattes, or hot water. There are also buttons to adjust the dose (or amount of coffee used per drink) and drink volume, as well as milk foam amount. 
Finally, there's the LatteGo's maintenance. All of the machines in this line of Philips superautos are compatible with AquaClean water filters. With a simple notification on the machine face, you'll know when it's time to swap the filter, or even clean/descale the machine entirely. AquaClean filters filter the water you put into the machine's reservoir to both produce excellent coffee and extend the time between descalings.
Design and Features
The biggest thing that sets this machine apart from others in the Philips line is the LatteGo steaming system. As mentioned above, LatteGo is a little different from a typical carafe. Most carafe based options still use a siphon to pull milk into a steaming chamber. With LatteGo, milk is siphoned through the carafe, but upon heating it is poured through a spout that is part of the carafe itself. 
The difference here is a very simple system that looks like a standard carafe on its surface, but one where the milk doesn't have to move through tubing inside of the machine to get to a spout at the brew unit. The result is a much easier to clean system that actually produces hot, well textured milk.
In terms of the design of the 3200, it features a top loading bean hopper and front loading water reservoir. While it can be a pain to have to pull your machine out from under your cabinets to load beans, the front loading water reservoir means you won't have to repeat this too often. This is a smart design feature that many superautos miss, and it really makes day to day use of the machine more convenient. 
By combining the consistency of Philips' espresso brewing and range of brew options with the high quality, easy to clean LatteGo system, the 3200 with LatteGo is a fantastic starting point or upgrade for your home espresso journey.