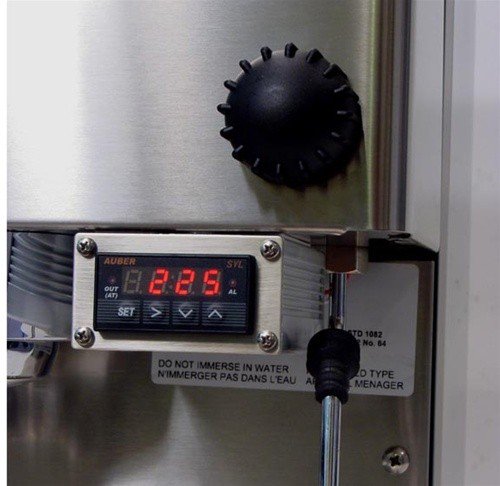 You may have seen that certain espresso machines include what's called a "PID," or "PID controller" more accurately. This week, we're going to talk about what a PID controller is, and why it's worth the extra cost!
The Basics
If you've been following along with us, you probably know that temperature is extremely important to brewing coffee. While different brew methods and roasts demand different temps, stability is key. PID controllers help ensure that stability. Machines without these devices often use a simple thermostat that isn't as accurate as a PID controller. By comparison, a machine with PID control monitors itself to ensure temperature stability and control.
PID stands for Proportional-Integral-Derivative. Quite a mouthful! On a basic level, a PID controller uses the PID algorithm to determine the best way to control whatever process it's used for. PID controllers are used in a wide range of industrial applications, in our case, it controls the temperature in your espresso machine!
A traditional thermostat has a tendency to hit a desired temp, then turn off the heating element as the temp rises above its target. Then it'll kick back on as the temperature falls below the target. This results in uneven temperatures that can result in inconsistent shot quality in an espresso machine. There are ways to mitigate this with many machines, but it often means learning how to ride the temperature wave with your specific machine. This may require timing the heat-up time precisely or running water through the group head before pulling a shot.
PID controllers use the PID algorithm to keep your machine at the proper brew temperature. This also means the you can directly control the temperature of the machine. While not true in every case, PID controllers are usually visible on the machine. They also usually feature control buttons to increase or decrease the brewing temperature. While this won't matter for most, for some home baristas, experimenting with different roasts and temps is key!
So You Want a PID Controller?
It's possible to install a PID controller into most home espresso machines. The process however, can be daunting. Performing an after-market install of these devices is essentially rewiring the machine. You'll have to find the thermostat, disconnect it, and install the PID controller. This will require a pretty strong understanding of how these devices work, and competency in basic electrical work. You'll also need to understand how to program the PID controller , as these are devices used for a wide range of applications. Some vendors offer kits for specific espresso machines that will make this process easier. In any case, installation of a PID controller will definitely void your warranty.
But there is hope! If you're in the market for a new machine, many now come with PID controllers installed. These devices used to be used primarily on commercial hardware, but have entered the home market. While you might pay a little extra for a machine with one of these devices, it'll come under warranty and save you digging around the guts of your machine. Once you have a PID controller, you'll be able to eliminate temperature as one of the variables in dialing in your shots.
It's important to note, some PID controllers are clearly visible boxes attached to the machine. The PID installed in the photo above is an example of this. Other machines have external PIDs that are attached via a cable. Further, some PID controllers are internal and show up as a small screen on the machine, like the Ascaso Dream above. Finally, some machines have internal PIDs that do not have an interface. In these cases, you won't be able to control the temp easily, but the PID controller is still keeping it stable at a set level.
We hope this helps de-mystify these devices!